News (10 December 2020)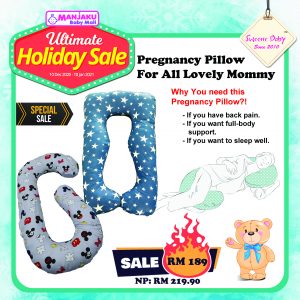 Looking for the best gift for pregnant mum? 
 You should get this Sweetie Baby Pregnancy Pillow for all Pregnant Mommy out there. It is only RM189 now at all Manjaku Baby Mall (NP: RM219.90) Special price for our Ultimate Holiday Sale 
Why You Need this Pregnancy Pillow?
It provides ultimate comfort to all pregnant Mommy 
Looking for more gift? Just visit Manjaku Baby Mall as we have prepared all kind of baby gift choices for you to choose on 
 Share with admin what will be the best baby gift you are looking on.
Stay tune for our page as admin will everyday provide you some gifting ideas for you 
 See you. You can also call us for home delivery services too. Just WhatsApp 
 us your order and self pick up.
This will shorten the time you shop in store. Your health and safety will our top priority during this period of time 
Tag your friend and share this post around ya.
#ManjakuBabyMall #UltimateHoliday #Sale #love #December #gift #exciting #freebies #lovely #Manjaku 
News (10 December 2020)

4 in 1 Mattress Set for only RM 79.90 & Nursing Pillow also for only RM 79.90
At Manjaku only